Best Transport Services in Sri Lanka
The Most Trusted Company in Sri Lanka for Transport Services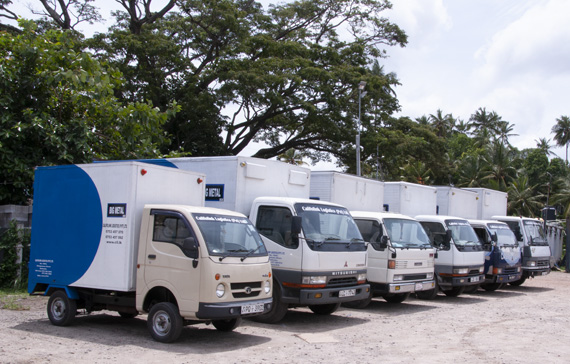 From loading and unloading goods, packing and securing movables, Califolink transport services Sri Lanka provide the best rates that you could receive for transport services in Sri Lanka. Califolink possesses responsible, flexible, and friendly staff for all our services of transportation in Sri Lanka. We have a fleet of modern vehicles ranging from trucks, vans, and lorries in all sizes. Many companies and individuals seek reliable transport services for various reasons. Califolink stands at the forefront in providing reputed transport services in Sri Lanka and assisting business and individuals to carry out their transport activities. We carry out operations including the transportation of FCL/LCL of 2 to 50 tons cargo on high as well as low bed trailers and trucks island-wide.
Califolink plays a vital role in the supply chain by providing transportation in Sri Lanka for industry leaders of the apparel industry inclusive of MAS and BRANDIX Group. As our ultimate mission being 'OFFERING PEACE OF MIND' to the customers, we thrive to carry their businesses to the peak of success through innovative transport services in Sri Lanka. We dedicate our services to complete the tasks of our customers without any blunders, and over the years, we have become the largest auto carrier operator in Sri Lanka.
When our team is appointed to transport goods, the relevant goods are taken to our warehouse by them. We then transport the cargo to the destinations according to the requirements of our clients. Our transport services in Sri Lanka become one of the most organized courier services because we operate according to a set of processes with consideration of the convenience of our customers. While we are in action for 24 hours, we are contactable any time and therefore, working with us has never been a hassle. As one of the best transport services in Sri Lanka, we make sure to provide you with the best quality transportation services in Sri Lanka with guaranteed trust and safety.
We are the most trusted one-stop-shop for all your transport and logistics requirements
in Sri Lanka