Container Conversions Sri Lanka
Best Container Conversions in Sri Lanka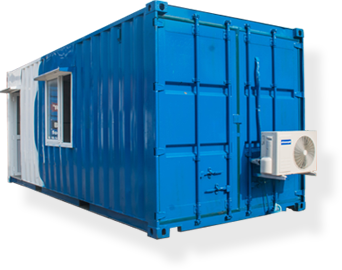 Container Conversion Services in Sri Lanka
As the world is moving forward with technology and innovation, container conversion has become the latest solution for environmentally sustainable constructions. Read More
Mobility
No Permits Required
Evolving with Trends
Convenience and Easy Accessibility
Cozy, Relaxed and Accommodative Ambiancet
Affordability
Flexibility
Best Container Conversion Company in Sri Lanka
Califolink is one of the leading Container Conversion Supplier in Sri Lanka. We offer container conversion solutions using 20' & 40' Container configurations to meet specific requirements of our valued customers. Being Sri Lanka's leading Container Conversion Supplier , Califolink converts shipping container boxes into a vast array of concepts ranging from homes, offices, mobile restaurants, hotels, chalets, site offices, sanitary, labs, workshops, showrooms, cafeterias, site offices, laboratories, toilet suites, swimming pools, display units, guard rooms and many more.
All our prefabricated modular container conversion solutions and converted containers are available with insulation, partitioning and sanitation. Our container conversion solutions have the advantage of being portable, quickly deployable, cost competitive and could be set-up on conventional structures. Califolink's container conversion experts are masters in offering modular and prefabricated container construction solutions through converted shipping containers, for offices, mobile kitchens, homes and everything in between. These units can be designed with doors, windows, lighting, air conditioning, toilet facilities, etc.
Califolink brings you the latest designs & concepts of converted shipping containers as cost effective and environmentally sustainable construction solutions in Sri Lanka, against the traditional residential, commercial and industrial construction can be wasteful, disruptive and time consuming. Under container conversion services, Califolink offers high quality converted shipping containers for design & build container homes in Sri Lanka, container offices in Sri Lanka, portable toilets in Sri Lanka, container stores in Sri Lanka, container swimming pools in Sri Lanka & many more.
Container Homes in Sri Lanka
We are one of the leaders in container conversion business in Sri Lanka and that's why we have now added new concepts to our expanding product portfolio – Container Homes. If you are looking for a cost effective & environment friendly home solutions in Sri Lanka, our Shipping Container Architecture may just be the answer. Califolink's Container Homes can be tailor made to suit your individual style and preference – relaxed ambience, ultra-modern or studio type, we are ready to work with you in creating that space Modular in design, 20' and 40' steel containers can be prefabricated in our modern workshop and transported to customer locations where they may be stacked, cut and pieced together to form delightful container home structures. Add-ons may be incorporated at any time as per your budget & your desire. Califolink's unique Container Home solutions may be assembled in compact spaces, vast terrains, natural surroundings and even areas of extreme weather patterns. The shipping containers we use for Califolink's Home solutions in Sri Lanka, were originally sea- going material built to withstand harsh conditions and therefore, homes constructed of them are naturally strong and resistant to the elements. Moreover, their cost effectiveness and added benefit of being fabricated and occupational within a short period of time make it an ideal choice for those who hate the hassle of conventional building construction processes.
If you are interested in building a unique Container Home from Califolink, talk to us today!
CONTAINER CABINS IN SRI LANKA
The Container Cabins Concept introduced by Califolink Logistics (Pvt) Ltd; takes the definition of recycling to another level by converting marine containers to beautifully compact spaces in which to live work & thrive! There are limitless possibilities of converting marine containers into work or life stations using customized doors, windows, insulation, and interior paneling with aluminum, PVC, wood and steel products. These prefabricated mobile container units could be used as homes or offices. We make them attractive, offering varied color schemes, carpeting solutions and even concrete bases. Our container cabins could be converted into bathrooms, cafes, lunchrooms, medical rooms, store rooms & workshops instantly with a short lead time and lower cost when compared to constructing permanent structures.
With Califolink, expansion of the structure is possible as any number of containers could be fused together by removing the side panels for a wider floor area. We are able to provide solutions if space needs to be allocated vertically by stacking these containers two high. We also provide additional roofing and staircases designed to enhance durability and functionality, if needed. Our converted container solutions could be used for a period of over 20 years if properly maintained.
Over the years, Califolink Logistics has had the opportunity to be involved with a multitude of industries and organizations that utilize marine containers to turn out practical container cabin applications for both living & working.
CONTAINER STORAGE SOLUTIONS IN SRI LANKA
We provide portable container storage solutions in Sri Lanka in various sizes. Our customers range from individuals for residential or recreational storage and businesses for retail, commercial or industrial storage purposes. We have decades of experience in the container conversion industry and understand your various storage requirements. We have storage containers ranging in size from 10ft 20' to 40' in length and offer quick and easy delivery service.
Access your own safe and secure self-storage space. They are Ideal storage spaces for Home shifts or Business moves. We offer 20' and 40' mobile storage containers. Regardless of your storage needs…be it short term or long term…standard or custom…We are the best choice for all your container storage needs!
PORTABLE TOILETS IN SRI LANKA
Califorlink introduces 4'x4', 10'x8' and 20'x8' portable container toilet units in Sri Lanka, for the places where a permanent toilet solution is not practical. Our portable toilet units can be easily transported and offer good comfort & hygiene even in the most remote locations. These portable container toilet units come in various models and sizes, with ease of connection to water and sewage facilities. All models are insulated and have good lighting and ventilation.
At Califolink, we offer the highest-quality portable toilet units in Sri Lanka, providing the standards of cleanliness and hygiene you would expect to find in your home. Our portable toilet solutions are durable and robust enough for permanent use, as well as being easy to clean and maintain.
All our portable toilet units are connected to mains water and sewage systems so there are no unsightly waste tanks to empty. The toilet blocks can be linked to other container cabins or to traditional buildings to create seamless, integrated facilities.
PORTABLE GUARD-ROOMS IN SRI LANKA
For Construction sites & factories we are offering defect free, efficient Guard Rooms designed from shipping containers. Califolink's guard room solutions are precisely designed using supreme quality material and latest technology, in order to meet diverse needs. Our Container fabricated Guard Room solutions are widely demanded in numerous commercial and residential sectors. We have a full range of guard room solutions available in various shapes and sizes.
Our Guard Rooms are made with water-proof walls and roof insulation. These rooms provide a humane working condition for your hard working security officers. Califolink's portable container guard rooms can be attractively designed with glass window and painted or tiled to give matching exteriors to your site.
With unmatched technical excellence, Califolink is devoted to manufacturing and supplying an exclusive array of Prefabricated Container Guard Rooms, suitable for various places, offering spacious guard rooms that are highly demanded in the market. Manufactured by excellent quality material, Califolink provides Prefabricated Container Guard Room solutions in a wide variety of specifications to suit ever-changing needs of clients. Our guard rooms are available in two standard 10×8 and 4×4 sizes & suitable provisions can be made for resting bed, working desk, storage etc with your request.
Advantages of Califolink's Container Conversion Solutions
VALUE FOR MONEY – Our shipping container conversion comes with Luxury finishes at low cost
MOBILITY – Our Prefabricated container units are mobile and can be relocated at a minimal cost
FAST DELIVERY – At Califolink, container conversions could be done and delivered with in thirty to ninety days depending on the design. With our internationally accepted processes & procedures, we guarantee the fastest delivery of required container conversion solution.
MINIMUM INVESTMENT IN LAND – Our container cabins can be built in an extent less than five perches of owned or leased land
MODERN STYLES – Califolink offers a range of designs to suit your lifestyle with flexibility of expansion by adding units
SAFETY & COMFORTS – All our container conversion solutions are temperature Controlled and no lightning or Tsunami risk.
ECO FRIENDLY – Our container conversion solutions are manufactured from up-cycled marine grade containers and other recyclable materials. Options are available to integrate solar power and rain water harvesting.
Customize to your specifications -
We can customise shipping containers based on your specifications and sizes to suit your requirement. Deliver anywhere in the Island
Wherever you are located on the island, we can deliver our solutions for your business at any time. Most affordable in the market
Our container conversions are the most affordable container conversion solutions in Sri Lanka. Guaranteed satisfaction
At Califolink, its the client satisfaction that matters most. Therefore we make sure our clients are 100% satisfied with our solutions.
Our list of satisfied clients using our standard container conversion models and benefiting from their multiple uses is many. NGO's, Embassies, Construction Companies, Factories, Event Organizers, Banks, Cafes, Dockyards, Government Institutions, Sports Clubs, Armed Forces and many more.
---
02
Identifying the Requirement/ Budget
03
Finalizing the Design and the Cost
05
Production Commencement
06
Delivery to Your Doorstep
Having gained the reputation for providing services of an exceptional standard ranging from cargo clearance and transportation to the provision of storage facilities, Califolink Logistics (Pvt) Ltd, is distinguished by its customer oriented approach, evident in every aspect of its services.
---
OUR ENDLESS CAPACITY
OUR GAMUT OF LATEST PROJECTS
We are the most trusted one-stop-shop for all your transport and logistics requirements
in Sri Lanka