Vehicle Carrier Services in Sri Lanka
Your Dependable Vehicle Carrier Services in Sri Lanka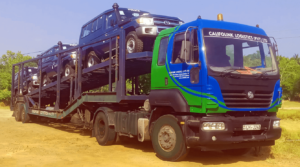 At Califolink, we take prompt actions at situations of emergencies like when you require vehicle carrier services and when you seek breakdown services in Sri Lanka. We take it our priority to arrive at the location that your vehicle got immobilized, provide roadside assistance, and carry your vehicle, to the destination that you desire. Our vehicle carrier services in Sri Lanka operate 24/7, and therefore we are contactable and responsive at any time of the day. Our professionals ensure you that you would never get stranded anywhere no matter in which part of the island you are. Califolink vehicle carrier services in Sri Lanka take care of your vehicles that require breakdown services from bicycles, cars, racing cars, trucks to any land vehicle.
Once you contact our car carrier company, our customer-oriented friendly team will immediately operate to reach you as soon as possible. Then we ensure that you receive an alternate backup vehicle wherever you are, day or night. Our experienced mechanic team will then handle your troubleshooting vehicle, allowing you to relax and care less. Then, you will be contacted by our car carrier company within the shortest time. As our vehicle carrier services are contactable 24/7, you are welcomed to inquire about the status of your vehicle while it is undergoing its breakdown services.
Whether you need one car, van, bicycle or more, Califolink Vehicle carrier services in Sri Lanka provide reliable vehicle carrier services like no other in this pearl island. Deciding the right car carrier company among the many car carrier transport companies to move your vehicle successfully and securely could be a fuss. An added problem is finding cheap vehicle transportation services with safety guaranteed, for which is why Califolink could be your vehicle as well as your wallet saviour. We make your experience of vehicle carrier services a simple and a one-stop-solution, once and for all. Califolink manages the process of your car carrier and breakdown services from start to finish to make sure that our vehicle transport carrier service is smooth, on time and budget-friendly.
We are the most trusted one-stop-shop for all your transport and logistics requirements
in Sri Lanka