Boom Trucks for Hire in Sri Lanka
The Most Trusted Boom Trucks Hiring Company in Sri Lanka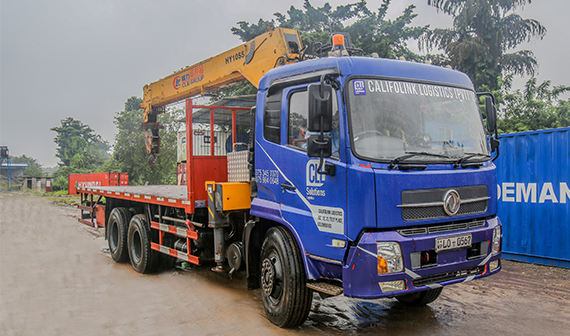 Available in both articulating and telescopic models, we provide the best boom trucks for hire in Sri Lanka no matter how complex your requirement is. Whether you need our services for a day, week, month or even for the project you are working on, you will receive our boom trucks for the lowest boom truck rental price to suit the project. Upon your requirement, we provide boom trucks for hire to suit all your needs like telescopic booms to reach higher working areas and articulating booms for multipurpose and horizontal reach. With years of experience, our professionals cover all the height needs to be worked on through a boom truck rental.
With the use of electric boom truck for indoor use and diesel models for competitive terrain outdoors, we own a reputation as one of the boom truck companies that provides the smartest boom truck services in Sri Lanka. Our clients expect safe, and professional service for their ease and Califolink never fails to impress them as the best service provider for boom trucks for hire in Sri Lanka. All your on-site requirements will be met with the latest technology in the market, along with the outstanding performance of Califolink boom trucks. When you contact us to receive boom trucks for hire in Sri Lanka, we use crane trucks, forklifts, bucket trucks, and crane lorry trucks with the most competitive rates with excellent all-terrain capabilities to meet all your inquiries. Therefore, Califolink is the leader in offering crane trucks for hire in Sri Lanka, bucket trucks for hire in Sri Lanka, forklifts for hire in Sri Lanka and crane lorry trucks for hire in Sri Lanka.
As a result of our doubtless boom truck rentals, our clients never hesitate to reach us when they require moving any heavy object from one location to the other. As a leading service provider of boom trucks for hire in Sri Lanka, Califolink has a dedicated set of staff that is contactable 24 hours. With safety guaranteed in all our boom truck rentals, our exclusive services are reliable with the best boom truck rental prices in the market.
We are the most trusted one-stop-shop for all your transport and logistics requirements
in Sri Lanka